Canada Post - Thematic Collection #74 - Year of the Ox (1997)
SKU: COT-074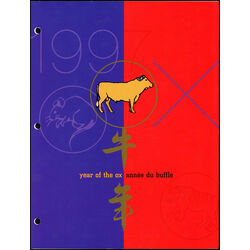 With small imperfections
The booklet is perforated for a binder.
---
Description
1997 - Thematic collection as issued by Canada Post.

Year of the Ox

The beginning of each Chinese year is calculated according to the second New Moon following the Winter Solstice. Legend has it that Buddha called all the animals in his kingdom to come before him; only twelve came. In gratitude to those twelve, he named a year after each of them in the order of their arrival, with the Rat being first. A year is named after each of these animals, and people born during that year are said to adopt some of the characteristics of the animal. Contains Scott number 1630ai.
---
Related Items