JOIN OUR STAMP CLUB TODAY !
Get 5% discount on every eligible item.
Receive a FREE stamps gift.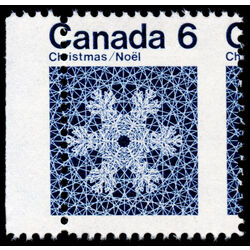 Very nice copy of the 6¢ blue snowflake from the 1971 Christmas issue with an impressive perforation shift towards the right splitting the "C" of "Canada" with part of the adjacent left stamp showing at the right margin! Because it is a left sheet margin copy, we can also see part of the design inside the sheet margin!
Cv. $150.00
Offer ends 2022-12-31
Only 1 in Stock