JOIN OUR STAMP CLUB TODAY !
Get 5% discount on every eligible item.
Receive a FREE stamps gift.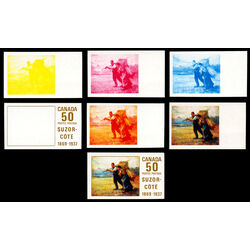 Very rare and stunningly beautiful complete set of the seven plate proofs made for the 1969 Suzor-Côté stamp #492 showing the different ink layers printed by photogravure. It contains the #492Pi trial colour in yellow, #492Pii trial colour in magenta, #492Piii trial colour in cyan, #492Piv brown inscriptions, #492Pv orange (yellow + magenta), #492Pvi complete painting (orange + cyan) and #492Pvii finished proof with inscriptions! Officially acknowledged in the Unitrade Catalogue with a value of $1,500 for the complete set, which may even be underrated, because these sets are scarce!!!
Cv. $1,500.00
Offer ends 2022-08-31
Only 2 in Stock