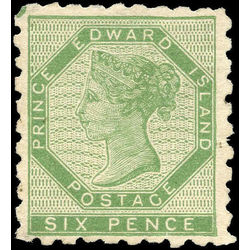 Prince Edward Island Stamp #3 - Queen Victoria (1861) 6d
SKU: CAN-PE03
Mint - Fine to Very Fine
(M-F-VF-020)
Rare offered as nice as this one.
Cv. $2,000.00
USD $1,300.00
---
Used - Very Fine
(U-VF-023)
Very Fine centering for this stamp. A new shorten perforations. Tear at lower left corner, repaired.
---
Small flaws but nice looking
---
Used - Defect
(U-DEF-010)
---
Used - Defect
(U-DEF-012)
---
Used - Space Filler
(U-FIL-008)
A 10mm tear and several perforations cut away.
---
---
Mint - Fine to Very Fine
(M-F-VF-021)
The gum is there but probably a regum, otherwise it is worth twice the price listed. The bottom perforations are added. Still a very lovely stamp.
---
Mint - Very Fine Original Gum
(M-VFOG)
Cv. $5,500.00
USD $3,575.00
---
Mint - Fine Original Gum
(M-FOG)
Cv. $2,500.00
USD $1,625.00
---
Mint - Very Good Original Gum
(M-VGOG)
---
Cv. $2,750.00
USD $1,787.50
---
Mint - Space Filler
(M-FIL)
---
Used - Space Filler
(U-FIL)
---
Description
Victoria - 6p, yellow green, perf 9
| | |
| --- | --- |
| Country | Prince Edward Island |
| #Scott | PE3 |
| Issue | Queen Victoria |
| Name | Queen Victoria |
| Face Value | 6d |
| Date | 1861-01-01 |
| Colour | Yellow green |
| Perforation | 9 |
| Paper | YP - Yellowish Paper |