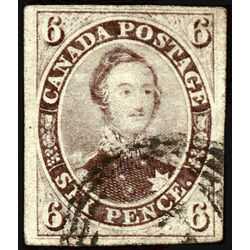 Canada Stamp #10 - HRH Prince Albert (1857) 6d
Very thick fibrous soft paper
SKU: CAN-0010
Used - Very Fine with Certificate
(U-VF-011)
Very well centred copy with four margins of the extremely scarce #10, the reddish purple Prince Albert on very thick fibrous paper! It has a nice cancellation, there is a small thin at upper right corner. Still in great shape for this issue, certified by AIEP.
Cv. $9,000.00
USD $2,995.00
---
---
Used - Extra Fine with Certificate
(U-XF-008)
Superb copy of the extremely rare six Pence reddish purple Prince Albert on thick soft paper WITHOUT ANY FAULTS, four big balanced margins, a light and centred "X" pen cancellation, certified by Vincent Graves Greene... this is easily one of the greatest copy we have seen (and most probably the best one we have ever owned)!
Cv. $9,000.00
USD $4,995.00
---
With three jumbo margins.Unfortunately, there is a light thin on the top of the back the caused by the hinge removal, but it is not detracting from this stamp outstanding appearance from the front!
Cv. $4,500.00
USD $1,595.00
---
Mint - Very Fine Original Gum
(M-VFOG)
Cv. $80,000.00
USD $52,000.00
---
Mint - Fine Original Gum
(M-FOG)
Cv. $40,000.00
USD $26,000.00
---
Mint - Very Good Original Gum
(M-VGOG)
Cv. $16,000.00
USD $10,400.00
---
Cv. $40,000.00
USD $26,000.00
---
Cv. $20,000.00
USD $13,000.00
---
Cv. $8,000.00
USD $5,200.00
---
Cv. $6,000.00
USD $3,900.00
---
Mint - Space Filler
(M-FIL)
Cv. $3,000.00
USD $1,950.00
---
Cv. $9,000.00
USD $5,850.00
---
Cv. $4,500.00
USD $2,925.00
---
Used - Space Filler
(U-FIL)
---
Description
| | |
| --- | --- |
| Country | Canada |
| #Scott | 10 |
| Issue | Pence |
| Name | HRH Prince Albert |
| Face Value | 6d |
| Date | 1857 |
| Variety | Very thick fibrous soft paper |
| Colour | Reddish Purple |
| Perforation | Imperf. |
| Paper | Wove - Wove paper |
| Printer | Rawdon, Wright, Hatch and Edson of New York |
---
Related Items