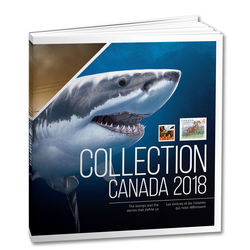 Canada Post - Annual Stamp Collection #61 - 2018 Collection Canada
SKU: COA-2018
Description
Yearbook of Canadian stamps

Relive the year in stamps and discover all there is to know about these beautiful stamps with the Collection Canada 2018 album, a superb large format Canadian themed book, annual collection #61.

This high-quality hardcover album contains captivating stories, illustrations and photos that present the historic and cultural context of this year's stamps, and tell the story of Canada together.


Contains 58 mint stamps
Protective mounts to preserve your stamps
Cardboard slipcover to protect your album
This popular collector's item contains images and photographs by some of the most talented artists in the country, as well as 58 new stamps and protective mounts to preserve them.
---
Related Items