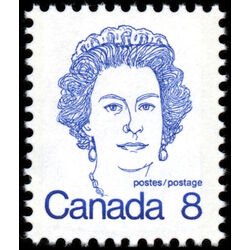 Canada Stamp #593 - Queen Elizabeth II (1973) 8¢
NF
SKU: CAN-0593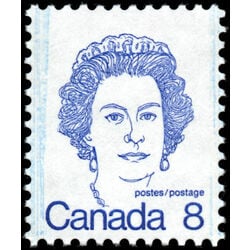 Mint - Very Fine Never Hinged - Variety "Blue Paper"
(M-VFNH-002)
Nice copy with beautiful blue ink smears from the engraved colour along the tagging lines! The location of the smears vary, i.e. each copy is unique. A very nice collectible!

PS: We might be underestimating the value of this stamp, as there is a very similar variety on another stamp listed in the catalogue with the code #926i. This is the so-called "blue paper" variety (caused by improper wiping), which has an astonishing value of $200!!!
---
Mint - Very Fine Never Hinged
(M-VFNH)
---
Used - Very Fine - One Bar Tagging
(U-VF-1-BAR)
---
Plate Block (Lower Left) - VFNH - Plate #1
(PB-LL-#1)
---
Plate Block (Upper Left) - VFNH - Plate #2
(PB-UL-#2)
---
Plate Block (Upper Right) - VFNH - Plate #2
(PB-UR-#2)
---
Plate Block (Lower Left) - VFNH - Plate #2
(PB-LL-#2)
---
Plate Block (Lower Left) - VFNH - Plate #3
(PB-LL-#3)
---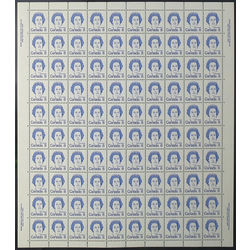 Full Pane of 100
(M-PANE)
---
Description
Elizabeth II, Ultramarine
| | |
| --- | --- |
| Country | Canada |
| #Scott | 593 |
| Issue | Caricature Definitives |
| Name | Queen Elizabeth II |
| Face Value | 8¢ |
| Date | 1973-10-17 |
| Variety | NF |
| Colour | Ultramarine |
| Perforation | 12 x 12.5 |
| Tag | GT2 - Gereral Tagging on two opposite edges |
| Printer | British American Bank Note Company |
---
Related Items