Canada Stamp #95 - Edward VII (1908) 50¢
SKU: CAN-0095
Mint - Fine to Very Fine Never Hinged with Certificate
(M-F-VFNH-021)
Beautiful never hinged copy of the highest value Kind Edward VII issue! These stamps are extremely rare never hinged with good centring and therefore command huge premiums in the catalogue. This copy is a great one, close to very fine and certified by Vincent Graves Greene.
Cv. $3,075.00
Offer ends in 2 days
---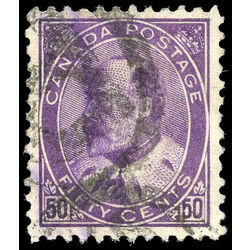 Used - Very Fine
(U-VF-025)
Lovely centring, registered cancellations ("R").
---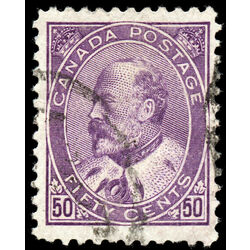 Used - Very Fine
(U-VF-028)
Fresh and lightly cancelled.
---
Plate Block - Very Good
(PB-VG-009)
PO inscription reversed and 734 corrected for 744. Very rare item.
---
---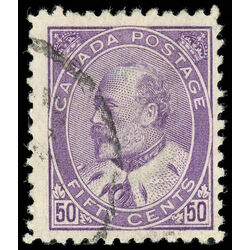 Used - Fine to Very Fine
(U-F-VF-029)
Small thin. Rarely so nice looking.
---
Mint - Very Fine Never Hinged
(M-VFNH)
Cv. $5,250.00
USD $3,412.50
---
Mint - Fine Never Hinged
(M-FNH)
---
Mint - Very Good Never Hinged
(M-VGNH)
---
Mint - Fine no gum
(M-F-NG)
---
Mint - Space Filler
(M-FIL)
---
Used - Space Filler
(U-FIL)
---
Description
King Edward VII Purple
| | |
| --- | --- |
| Country | Canada |
| #Scott | 95 |
| Issue | Edward VII |
| Name | Edward VII |
| Face Value | 50¢ |
| Date | 1908-10-06 |
| Colour | Purple |
| Perforation | 12 |
| Printer | American Bank Note Company - Ottawa |
---
Related Items