Canada Stamp #14 - Queen Victoria (1859) 1¢
SKU: CAN-0014
Mint - Fine to Very Fine Original Gum with Certificate
(M-F-VFOG-059)
Superb fresh colour, nicely centred and perforated for this issue with a good portion of original gum and a scarcer perforation of 11¾, certified by Vincent Graves Greene.
---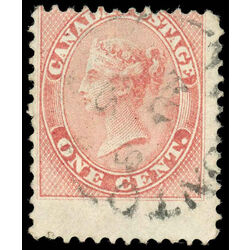 Jumbo margin at bottom
---
Used - Very Fine - "Q" Flaw, pos. 38 (#14iv)
(U-VF-045)
---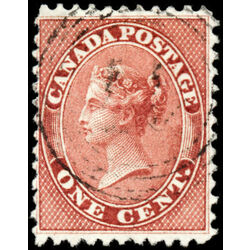 Used - Very Fine - Deep Rose (#14b)
(U-VF-061)
Fresh copy, nicely perforated with deep rose shade, perforations of 11¾ and a very light four-ring numeral cancellation (possibly #41, Sandwich, RF 8/10).
---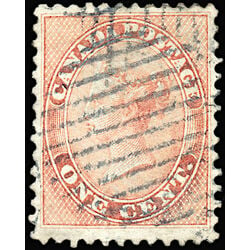 Used - Extra Fine
(U-XF-029)
---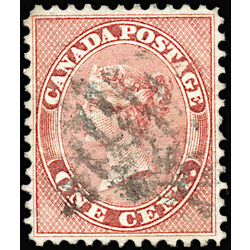 Used - Extra Fine
(U-XF-031)
---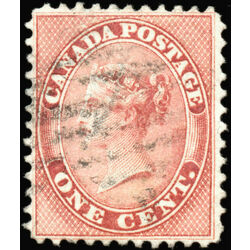 Used - Very Fine
(U-VF-036)
---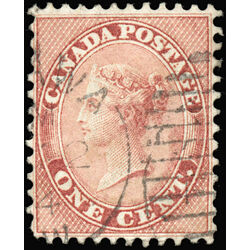 Used - Very Fine
(U-VF-037)
---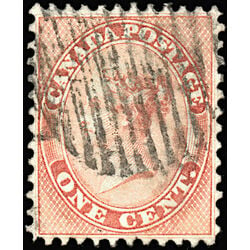 Used - Very Fine
(U-VF-042)
---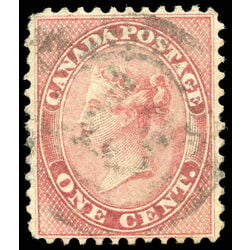 Used - Very Fine
(U-VF-056)
Flaw on N of ONE. four-ring 18
---
First stage of the Q flaw. Very Rare
---
Used - Fine to Very Fine
(U-F-VF)
---
---
Mint - Very Fine Original Gum
(M-VFOG)
---
Mint - Fine Original Gum
(M-FOG)
---
Mint - Very Good Original Gum
(M-VGOG)
---
Mint - Space Filler
(M-FIL)
---
Used - Space Filler
(U-FIL)
---
Description
Queen Victoria, one cent, rose, wove paper, 1¢, from the First Cents Issue
| | |
| --- | --- |
| Country | Canada |
| #Scott | 14 |
| Issue | First Cents |
| Name | Queen Victoria |
| Face Value | 1¢ |
| Date | 1859-07-01 |
| Colour | Rose |
| Perforation | 12 |
| Paper | Wove - Wove paper |
| Printer | American Bank Note Company - New York |
---
Related Items